Most of Washington's memorials are for those making political or military contributions to our national life. But this is a rare example of the commemoration of an individual associated with technology.
Guglielmo Marconi, an Italian, is credited with inventing the radio. And here he is, looking out into a future where a new way of communicating around the world is possible. Above him is this bronze allegorical figure of electricity comprised of electrical waves and a woman with an arm pointing east and another pointing to the sky. The arms, legs, and wavy hair remind us of electrical waves, a nod to Marconi's work in radio wave technology.
A tour we think you'll love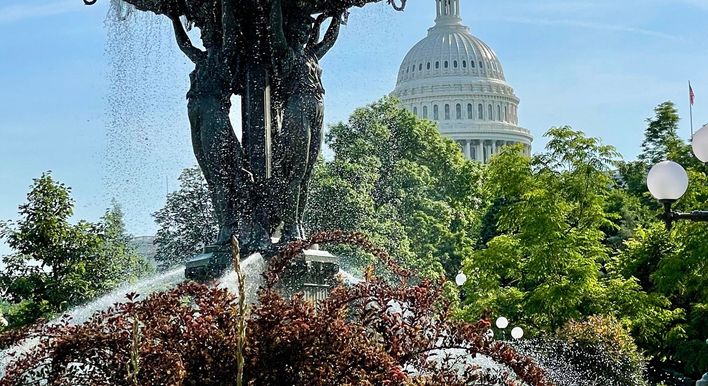 Customized Private Tours
From $250
View tour
Radio is a huge advancement. Before Marconi puts all the pieces of radio together, long-distance communication is limited to the telegraph. And the telegraph only works when a wire connects the parties, which makes it rather limited. No wire, no communication
But the wireless changes all that. The most immediate use of Marconi's wireless was ships at sea. For the first-time ships in danger could radio for help. In fact, one of the first uses of the wireless radio was the Titanic pleading for ships to come to come to its rescue.
For his pioneering work Marconi shared the 1909 Nobel Prize in physics.
The downside of Marconi – he was a fascist. He was a strong supporter of Italian dictator Benito Mussolini who appointed him president of the Royal Academy of Italy. And if that wasn't enough, Marconi was an antisemite. He rejected all Jewish applicants to the academy.
So how, as Italy has already invaded Ethiopia and the winds of war are blowing in Europe, does a memorial to a fascist, regardless of his contributions, get erected in Washington?
Well, there are probably a few reasons. First is, Marconi's invention is a game-changer, there's no question about that. Congress approves this memorial in 1938, nine months following Marconi's death at a time when there is increased interest in Marconi's work. Second is the group promoting it – the Marconi Memorial Foundation. It's comprised primarily of Italian Americans, a group that's flexing their newfound political muscle. In fact, they have memorials erected to him in Rhode Island, Philadelphia, and San Francisco as well as DC.
Interestingly, unlike the Japanese cherry trees at the Tidal Basin, several of which were chopped down after the attack on Pearl Harbor, this memorial is not vandalized after war breaks out with Italy.
The only incident that occurred here was sometime in the 1940s or 50s when students at the nearby but long defunct Capitol Radio Engineering Institute placed a bra on the figure of electricity. I assume it was a wireless one.