In a previous episode we explore famous actors buried here at Arlington National Cemetery. Today, let's look at some famous authors.
A tour we think you'll love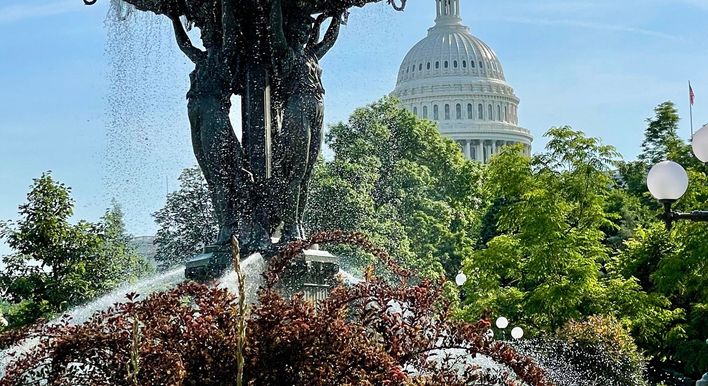 Customized Private Tours
From $250
View tour
"In an old house in Paris all covered in vines, lived 12 little girls in 2 straight lines." Those lines, read to so many children, are from the beloved Madelaine books written by Ludwig Bemelmans.
Born in 1898 in what is now Italy, Bemelmans was a rather incorrigible child. After getting into trouble one too many times, he was given the choice of going to reform school or immigrating to America where his father was. He chooses America.
When he arrived, he spent several years working as a waiter. In 1917, he joined the army but was not sent to Europe because of his German origins. He was promoted to second lieutenant and wrote a book about army life. He tried his hand at drawing and writing with no success until 1939 when he published his first Madelaine book. It was such a great hit he didn't write another one until 1953.
If you want to see something other than Madelaine and her friends, go to Bemelmans Bar in the Carlyle Hotel in New York City. His mural Central Park is his only artwork on display to the public. He was 64 when he dies. He buried at Arlington. Amongst many straight lines.
The New York Times called Dashiell Hammett "the dean of the… 'hard-boiled' school of detective fiction. Hammett actually worked as a private detective for a while, giving him ideas that made him one of the finest mystery writers ever. He created such well known charters as Sam Spade in the Maltese Falcon and Nick and Nora Charles from the Thin Man. Both books were made into movies.
Hammett joins the Army in 1918. He served in the Motor Ambulance Corps but spent most of World War I in the hospital. He signs up again after Pearl Harbor, and at age 48, worked as a cryptanalyst in the Aleutian Islands.
He was a strong antifascist in the 1930s and was a supporter of progressive causes all his life. Hammett was blacklisted as a suspected Communist during the Cold War, and he served six months in jail for refusing to divulge the names of those who helped fund an activist group.
Years of heavy drinking and smoking worsened the tuberculosis he contracted in World War I and the emphysema he developed in WWII. The last four years of his life he was cared for by his partner the playwright Lillian Hellman. He dies at 66 years of age.
There's another great mystery writer here. Mary Roberts Rinehart is sometimes called the "American Agatha Christie." In her mystery the Door she comes up with the "the butler did it" plot device.
She was born in what is now Pittsburgh during the country's centennial. She was left-handed at a time when that was considered a deficiency and was taught to use her right hand instead. She studied at the Pittsburgh Training School for Nurses and worked at a Pittsburgh hospital. She described the experience as "all the tragedy of the world under one roof."
When the stock market crashed in 1903, Rinehart and her husband, a physician, lost everything. To earn money, she started writing. After success with short stories, she wrote her first novel The Circular Staircase in 1907. It sold 1 and a quarter million copies and made her famous. She went on to be a war correspondent for the Saturday Evening Post at the Belgian front during World War I and interviewed Albert I of Belgium, Winston Churchill, and Queen Mary of England.
Rinehart suffered from breast cancer and had a mastectomy. She wrote about the experience in the Ladies' Home Journal. She encouraged women to have breast examinations, and this was at a time when such matters were not openly discussed.
Rinehart had a summer home in Bar Harbor, Maine. In 1947, her chef of 25 years fired a gun at her and then attempted to slash her with knives. She wasn't injured but this sounds like the makings of a great mystery novel.
At the time of her death in 1958 at age 83, her books had sold over 10 million copies. Her husband was an army officer and she's buried with him here at Arlington.