When the Titanic sank it took two prominent Washingtonians with it: Archibald Butt and Francis Millet.
A tour we think you'll love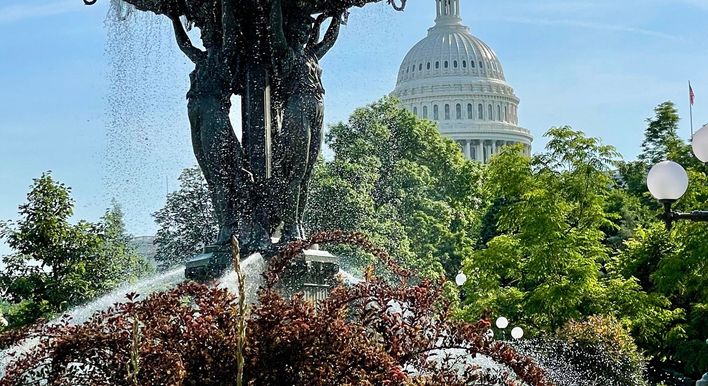 Customized Private Tours
From $250
View tour
Congress passed a resolution authorizing the construction of a memorial to them on the Ellipse near the White House. It's sculpted by Daniel Chester French, of Lincoln Memorial fame.
Ostensibly this memorial was erected because both men were government officials. Butt was a military aide to Presidents Roosevelt and Taft and Millet was vice chair of the US Commission on Fine Arts. But there's more to the story than that.
Archibald Butt was from Georgia. He went to the University of the South and was Washington correspondent for several southern newspapers. In 1900 he joins the army and proves to be a very able officer in the Quartermaster Corps in the Philippines.
When he's ordered back to Washington President Theodore Roosevelt asks him to be his military aide. The two end up becoming close friends. They go hiking, horseback riding, play tennis. Butt transforms the tedious White House receptions into orderly, enjoyable affairs, this is much appreciated by Teddy. When Roosevelt turns over the White House to William Howard Taft, Taft asks Butt to stay on as a military aide to handle the social side of the house. However, it turns out that Butt is a good deal maker and knows the federal budget. So, he becomes Taft's go-to person for budget negotiations.
Francis Millet was an accomplished artist and more. A Harvard grad he painted the murals at Boston's Trinity Church. He was a reporter for the New York Herald during the Russo-Turkish war and was decorated by Russia and Romania for his services to the wounded under fire. He was a trustee of the Met, one of the founders of the Boston Museum of Fine Arts, and if that wasn't enough, he translated Tolstoy and wrote short stories.
Millet was close friends with Augustus Saint-Gaudens and Mark Twain, both of whom attended his wedding to Lily Merrill in Paris. Twain was the best man.
And here's where things get interesting. Francis and Archie live together in a mansion at 2000 G Street NW which Millet owns. They threw large parties that were attended by members of Congress, Supreme Court justices, and even President Taft. Archie called Francis "my artist friend who lives with me." Mrs. Millet and the three children lived in the family's home in Italy.
These two are one of Washington's early examples of "don't ask, don't tell." They were both admired personally and professionally by Washington insiders, and everyone knew the nature of their relationship, but no one made a big deal about it.
By the end of Taft's first term Archie was exhausted. Taft orders him to go on vacation and he and Francis take a 6-week trip to Europe. They book return passage on the Titanic.
Taft was devastated by the loss. At a memorial service he broke down and cried. He couldn't finish his eulogy. A story in the Washington Times gently alluded to Archie and Frances' relationship when it wrote "the two men had a sympathy of mind which was most unusual."